The training workshops described on
this page can be delivered "off the shelf"
immediately in almost any customer
situation, or can be tailored to any
combination that fits your specific
sales performance issues. Our customized
approach may help you decide on
exactly the right blend of modules
and workshops to make your
sales force the best in its industry.

Nobody plans to fail; sometimes they just fail to plan.
The Key Account Planning System helps you prepare and maintain plans to win business
and manage key accounts. It is a set of planning tools which can be applied at the territory,
key account, sales opportunity, and sales call levels.
Key Account Planning System will prompt you to complete detailed plans to understand and
meet your customers' needs and preserve critical account information.

The sale begins in your customer's mind.
To be a true consultative sales professional, you must be able to communicate confidently at all levels, think from the customer's point of view and understand the challenges and issues that are keeping them awake nights.
Outside-In Selling is an intensive workshop that will sharpen your personal selling skills at all levels, from executive to technical.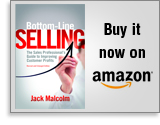 How can you sell solutions if you do not truly understand the problems?
Based on Jack's book: Bottom-Line Selling
High-tech purchasing decisions are increasingly being made by the business side of your customers' organizations, so your continued sales success requires the ability to talk the language of profits. Selling Profits Not Products is the first workshop to turn the mysterious language of financial statements into a clear road map for understanding your customers' business operations so that you can make the connection from your products to their profits.
The first financial course designed specifically by and for salespeople!

Exceptional salespeople know the fastest way to close complex deals is to win over senior level decision makers with compelling business value propositions.
Based on Jack's book: Strategic Sales Presentations
Strategic Sales Presentations begins with the same fundamental challenge of crafting and delivering a compelling "pitch", but adds two additional skills: how to express the value of your solution and how to appeal to the decision styles of senior executives.

Besides our quality workshops, Falcon Performance can also help your sales efforts with customized consulting engagements and other services, including:
Strategic sales planning and financial justification for crucial sales opportunities

Developing value propositions and sales strategies for new product launches

Developing value propositions and sales strategies for specific target markets

Case study development

Keynote speeches